Clarifying the prayer ministry goals and objectives for the members involved in this team is extremely important.  However, the prayer team is an aspect of church ministry that some overlook.
Providing clear and adequate prayer ministry guidelines for your team will be helpful to everyone involved.
To do a great job, prayer team members need clear instructions. Often, team members are volunteers, and adequate training can go a long way.
Volunteering at church is a great quality of an individual; however, team leaders should assess a person's readiness and abilities, rather than trying to fill a roster.
A prayer ministry training manual will help you teach your team the goals and objectives so that everyone is on the same page concerning the expectations of being a part of this team.
A training manual helps you lead the altar worker team toward excellence and servanthood.
A prayer team is vital to your weekend experience.  This team has a God-given desire to pray for people's needs with faith and expectation.
Who Should Serve On The Prayer Team?
Not just anyone should serve on the prayer team; in the same way, not everyone can play guitar on the worship team, work in children's ministry or lead a small group.  Your gifting, passion, and abilities should determine where and how you use them.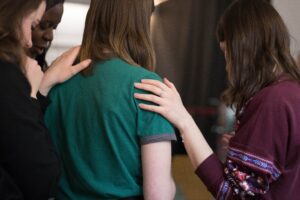 Qualities Of A Good Prayer Team Member
Understanding of and committing to fulfilling the vital role as a prayer team member
A heart for people
Willing to lead with a servant's heart
Commitment to the vision of the church
Supportive of the leadership of this church
Prayer Ministry Guidelines
Be Spiritually Prepared.
A good team member prepares mentally, physically, emotionally, and spiritually (This IS a ministry!).  Understand this is not a duty but a privilege to connect with God as part of your preparation.
Here are three more tips regarding preparation for prayer ministry:
Take the Initiative!
In moments when you're not sure to pray (or do), ask another team member or leader.
Stay Calm.
There will be moments of pressure; someone may be upset, or something isn't going the way you expected.  In these moments, never transfer the pressure to the person you're praying with and for.
Follow Direction From Your Leader
Good leaders are good learners.  You must follow leadership.  Remember you are there to be supportive and encouraging.
Remove the frustration of creating prayer ministry goals and objectives for your team.
Click the button below to purchase the Prayer Ministry Training Manual using the easy-to-use digital download and get immediate access to the training manual and free bonus!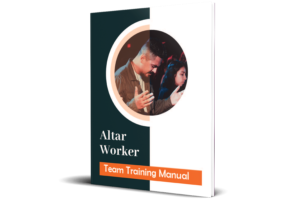 Prayer Ministry Goals And Objectives
1.  Understand Why Prayer Ministry Is Important
According to the Bible, prayer eases others' burdens.  (Galatians 6:2)
Prayer is also a ministry (Hebrews 6:9-10).
Prayer brings deliverance (2 Corinthians 1:8-11) according to the promises of God and the faith of His people.
2.  Be Prepared Before They Pray With Others
Prayer team members should be leaders who live a consistent life inside and outside the church (Romans 12:1-2).
Live With Purpose
The prayer team represents God
The prayer team also represents their church
Be Presentable
Dress as though you were meeting someone important for the first time.
Use nametags or badges
Be aware of your breath
3.  Take Initiative
Please introduce yourself and learn what their need is.
As the leader, realize that it can be so awkward (and cold) to immediately begin praying with someone as soon as they come forward or in a prayer room, etc.
Ministering at the altar is a leadership role.  Take a minute to introduce yourself, ask what their name is and how you can pray with them.
4.  Pray Using (and according to) God's Word.  (1 John 5:14-15)
Effective prayer is based upon the Word of God and His promises.  The prayers should be scriptural and focused on God's clear and direct promises.
If you have the privilege of leading someone to Jesus through a prayer of faith, realize the prayer of salvation is (Romans 10:8-13) a profound truth that is presented in an introductory way.
Leading The Prayer For Salvation
THE PRAYER Of SALVATION IS A CONFESSION OF BELIEF:
It is a prayer of asking God for the forgiveness of sins.
It's an acknowledgment of who Jesus is.  He is God's Son and the world's Savior.
Here is A SAMPLE PRAYER
"Dear God, I know that I am a sinner and that I have sinned against You.  Please forgive me for my sins.  I confess Your Son Jesus Christ is my Lord and Savior.  I give my life to you.  Amen."
 5.  Provide Bibles And Helpful Discipleship Materials
You can buy Bibles in bulk to save on cost and to ensure that you have bibles on hand to give to people.  Christianbooks.com  and Bibles By the Case provide a large selection of bibles.
One of the areas that frustrated me about altar ministry was never having a resource that I liked and felt confident giving to those I was praying with.  That is why I wrote Understanding God:  Four Things You Need To Know About Him And Realize About Yourself.  I wanted a book that would encourage growth in the new Christian, which would be easy to use for the altar worker.
If you'd like to purchase a copy of Understanding God, click HERE for more details.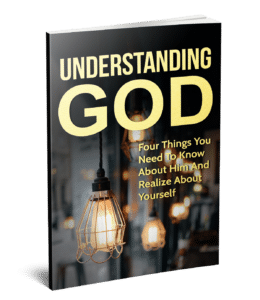 6.  Know The Limitations.
Prayer ministry will present many unique circumstances to pray about and for.  Sometimes people will seek counsel concerning specific areas of their life.  Unless you have specialized expertise or professional training directly related to their issue, please follow the follow prayer team ministry guidelines below:
Encourage the person to call the church office if you feel uncomfortable providing counsel in a particular area.
Realize you do not have to know all the answers.  As a prayer team member, you are there to pray in agreement with people.
If a person is contemplating suicide, please immediately make a pastor or appropriate staff member aware.
7.  Prayer Ministry Etiquette
Prayer team members should pray in pairs if possible.
To ensure accountability and safety, men should pray with men, and women pray with women.
Prayer team members should never manipulate or force others to say or do anything.
Effective prayer ministry begins with people who are caring and obedient.  Allow others to respond at their own pace and trust that God will direct them as He sees fit.
Prayer should take place in approved areas appointed by leadership.  Do not leave these areas to continue praying with a person alone.
Guidelines Concerning Praying Tongues
Praying/speaking in tongues is scriptural and encouraged.  However, if God has given you the gift of tongues, what you say should be understood by those who hear you (1 Cor. 14:2, 13-14,  16-17, 27-28).
If you pray in a prayer language without interpretation, it is not helpful to those who are new or uninformed.
If you pray in tongues, an interpretation should follow.
Praying for others should be a time of agreement and edification.  Because of this, praying in tongues will not be productive unless an interpretation is shared.
A good "rule of thumb" to use before praying in tongues with another person is: (1)Do you personally know them?  (2) Do they pray/believe in tongues themselves?
If you'd like a downloadable version to share the prayer ministry goals and objectives with your team, you can use the buy now button below. 
Will you mail me a copy of the training manual?
The Prayer Ministry Training Manual is delivered by email as a PDF file.  It is yours to keep and use as often as needed.  Feel free to print and email the manual to your team.
What is your refund policy?
We offer refunds to all customers within 30 days of your purchase.  If you are not satisfied with our product, simply send an email to [email protected], and we will refund your purchase right away.
What about images and graphics?  Will they relate to my church?
All manuals available from www.dailychristianhelp.com are created with your church in mind.  There are no logos, graphics, or images that would conflict with your church.
Do you have other ministry training manuals available?
Yes, you can view all available church training manuals by clicking HERE.
How do I pay for the manual?
When you click the buy now button, you will be directed to PayPal.  You do not need a PayPal account to complete a transaction.  Paypal is a fast, safe, and reputable online payment gateway.
Purchase The Manual
Remove the frustration of coming up with training material for your prayer team.  Plus, included with the Prayer Team Training Manual is a free bonus resource to help you develop new leaders.
Click the button below to purchase the Prayer Team Training Manual using the easy-to-use digital download and get immediate access to the training manual and a free bonus!