Communication and assimilation are typically a challenge for many churches. Engaging new visitors and keeping current members up-to-date is possible with helpful church texting solutions.
Churches need to follow up with new guests, engage new members, and easily connect their congregation with relevant information. Millennials and Gen Z prefer texting, and it is the most convenient way to send messages.
Almost 75 percent of American Gen Z and Millennials told researchers that they prefer to talk with other people via text message. – inc.com
Pastors and Church leaders understand the importance of interaction beyond a screen, but creating simple next steps for congregation members using church texting solutions can establish an initial connection.
Utilizing a church texting service can be a central piece of your assimilation process. Keep reading to learn more about using church texting strategies to communicate with your people, improve engagement, and establish trust with first-time guests.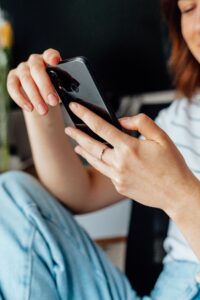 10 Practical Ways Church Texting Services Can Improve Communication With People
1. A Church Texting Service Can Help You Communicate With More People
One of the most significant advantages of texting is its immediacy. It's an ideal platform for churches to share important information with their congregation in real-time.
Customers want to interact with their phones, and texting is the preferred method of communication. Most people, 90 percent, open a text within three minutes, compared with the 20 percent of people who even open an email. Texts have a response rate of 45 percent compared to email's 6 percent. – pcmag.com
While the Church is not a product, people are people, and for the most part, they prefer texting when communicating. Today, the majority of people manage personal activity on their phones.
In 2019, 81 percent of consumers used mobile to manage finances, 79 percent to make online purchases, 32 percent to access government services, and 10 percent to receive telehealth care. Sixty-nine percent of people would rather use their phone than approach an in-store employee. – sopranodesign.com
Implementing a church texting software to engage with your people can open the door to in-person interaction and deeper relationships.
2. Churches Can Easily Capture First-Time Guests Information
Church texting services make it easy to welcome first-time guests and gather their information digitally during. Inviting guests to respond via text messaging during church announcements allows them to feel comfortable with a familiar platform and prefer using it.
Eliminating hand-written visitor information cards helps ensure that your team receives accurate information and removes a step in the administrative process.
Plus, your team can respond immediately to newcomers' texts that are curious about your Church or have questions, which isn't always possible with other means of communication such as email.
3. Church Texting Tools Can Help Make Giving Fast And Simple
It's no secret that the average church-goer is attending live services less frequently. Text giving can make receiving tithes or donations simple and more accessible for people to give. Not to mention, church text messaging services can improve consistency in giving, even when people attend fewer in-person gatherings.
Two decades ago, a frequent church attendee was in church services or activities once or twice a week. Before the pandemic, the twice-a-month church attendee was considered active by most church members and leaders.
But one of the trends emerging from the pandemic is the increasing number of once-a-month attendees. – churchanswers.com
Church texting provides a way for people to remain consistent in giving while they are out-of-town, sick, or experiencing restrictions. Helping your Church give with powerful texting platforms is an incredibly convenient way for someone to support their Church, even if they are not at live services.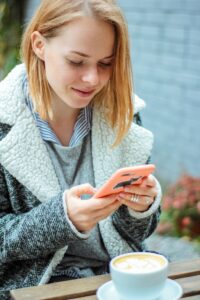 4. Provide Next Steps For Church Members Using Text Messaging
Communicating a consistent and clear path that helps people connect with your Church, find community, and grow spiritually is key to successful discipleship. Text messaging is a straightforward and customizable way to share with people about their next steps at your Church.
5. Church Text Messaging Can Streamline Volunteer Recruitment
Sharing a signup form to volunteer on your website is not the only thing you should do to recruit new team members. One of the best ways to get people involved in a ministry is text messaging. Texting allows you to contact them directly, using a method they prefer.
As long as your communications and announcement teams do their part to offer compelling invitations to serve, there's no need to push and pressure people to volunteer. Churches can use text messaging to invite people to respond and communicate about upcoming opportunities or scheduling.
You can provide links to online signup forms, training videos, and schedules with texts. Not to mention the ability to automate scheduling reminders so that volunteers show up on time.
6. Churches Can Collect Prayer Requests Using Text Messaging
A church texting service can simplify receiving, managing, and distributing prayer requests with software that performs the majority of the administrative work for you.
Churches can assign a designated text response or use a QR code to encourage members to share their prayer requests.
You can put your call to prayer everywhere. And we do mean everywhere. Place your call to prayer in your sermons, the lobby, parking lot, hospitals, vaccination sites, direct mail campaigns, and more. Your imagination is the only limiting factor. – thryve.io
This invitation is an excellent way for churches to prioritize prayer and communicate that they care about the needs of their people. Additionally, setting up groups within the software can help organize your team and be responsive at any moment a message is received.
7. Communicate With Parents Concerning Child Care During Live Services
Parents need to know their children are safe and that fast, effective communication is available to notify them. Churches with young families or those who want to attract them must use current resources that people frequently use. 
With texting, churches can quickly let parents know if an emergency arises or if the parent's assistance is necessary.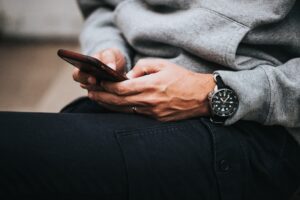 8. Church Can Gather Relevant Feedback From Members In Real-Time
A church text messaging service also makes it easier for churches to gather feedback from their congregation about upcoming sermon topics, initiatives, or questions.
If church participants regularly see that feedback is welcomed and makes a difference, ideas for improvement are abundant. – churchleadership.com
Asking for feedback about aspects of your Church that members care about is a powerful way to foster participation.
It's also an easy way for church leaders to get immediate feedback without the administrative headaches of using traditional methods to get in touch with everyone.
9. Text Messaging Can Help Personalize A Church Members Experiences
Pastors and Church leaders can send messages specific to a person's interest to avoid broadcasting mass messages to everyone.
If an announcement does not apply to 50%+ of the people in attendance on a Sunday morning, it doesn't warrant a stage announcement. – nucleus.church
The 50% rule should be applied when churches use text messaging too. Sending information relevant to their needs, their journey with your Church, and fits their context means you're likely to get people interested in the messages you send.
10. Text Messaging Can Promote Engagement With Your Church Throughout The Week
Churches who think of Sunday as the only day to engage their people will suffer from a lack of enthusiasm and participation from their members. The Church is more than a Sunday service during a set schedule.
Interacting with people throughout the week and inviting them to participate in ministry outside of a Sunday service is essential to deeper discipleship and growth. Plus, consistent communication will keep your Church top-of-mind for members. 
Church texting strategies can engage more people with helpful, relevant information throughout the week.
5 Ways To Use Text Messaging To Engage Your Church
Share sermon notes or quotes that are encouraging and motivational
Express gratitude and appreciation for people service or giving
Celebrate ministries such as outreach successes or salvation experiences
Provide weekly or daily bible verses
Encourage people to attend upcoming sermon series kick-offs
The key is to send valuable information consistently to relevant people groups within your Church. Doing so will help them identify your Church as a place of support. This belief is crucial for building a lasting relationship with your congregation.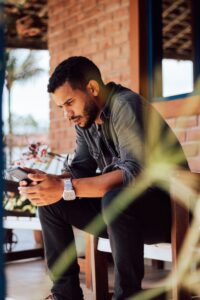 How to Choose A Church Texting Service To Fit Your Needs
There are four key factors churches should consider when choosing a text messaging service. The software should be easy to use, fit your budget, provide excellent customer service, and seamlessly integrate with other church management software.
4 Necessary Criteria To Consider Of Church Texting Services
Ease of Use
The last thing pastors or ministry leaders want is a complicated system that is difficult to use. Utilizing a text messaging service should help simplify ministry and be easy to navigate with a minimal learning curve.
Pricing Options and Features
To find a solution that fits your ministry needs, consider the size of your staff, the number of people in your Church, and your budget for a church text messaging service.
Always test services you are interested in with a temporary trial, and be sure to attend a demo to understand the features available at each pricing tier.
Also, ensure that the software includes automated services to significantly increase the value of using a text messaging service.
Compatibility with Other Systems
With church project management software, website builders, and other helpful tools available to churches today, it is crucial to assess if the platforms can communicate with each other.
Responsive Customer Support
Excellent customer support is a must with a user-friendly church texting dashboard and responsive customer success representatives. If you have a question about the system or need assistance with features, support should be available to help in real-time. This way, you can focus on reaching people in your community rather than figuring out a technical problem.
4 Popular Church Texting Services Specifically For Ministries
Using a church texting service will ensure that the features you need relevant to pastoring people are available. While several text messaging software solutions are available, a few are explicitly for ministry purposes. Below are four of the best church text messaging platforms and their features.

Tithe.ly Messaging is an excellent texting tool for churches. Recognizable, larger churches use this platform and the other services they provide to create an all-encompassing church management solution. Tithe.ly messaging is one software solution of many resources that this company offers.
Tithe.ly Church Text Messaging Notable Features:
No contracts
Cancel at any time

Email included

Drag and drop email builder

List builder

2-way messaging
Automation
Integrations

Smart Keywords

Follow-Ups

Image library
Tithe.ly messaging starts at $5 a month with 200 SMS included. For every message beyond this limit, it is 2.9 cents per text. Click HERE to review Tithe.ly messaging or all that this church management company offers.

Text In Church helps church leaders gather information, follow up with guests, and create authentic conversations. They were early service providers for churches with texting solutions and have continued to adapt over the years.
Text In Church Notable Features:
Automated workflows

Personalized messaging

Tested and proven templates
1-Click Integrations
Smart Digital Connect Cards

Two-way messaging

Free trial
Text In Church offers Basic, Pro, and Premium plans ranging from $31 to $81 per month with a 14-day free trial for each plan. To check out additional features or start a free trial, visit their pricing page by clicking HERE.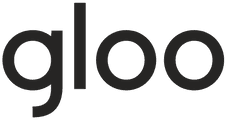 Thryve is the texting solution offered by Gloo. Gloo focuses on supporting churches with technology and platforms to make ministry easier. Thryve offers broadcast templates, prayer request features, and integrations with popular software.
Thryve Texting For Church Notable Features:
Strategies

Broadcast messaging

Two-way messaging

Mobile app

Automated workflows

Prayer request functionality

Surveys

Templates

Integrations
Unlimited keywords
Thryve pricing starts at $15 per month, with 500 credits you can use to send and receive text messages. Beyond this, it uses a sliding scale based upon the average weekly church attendance (AWA) and bundles messages in groups of 500.
To review their pricing plan or schedule a demo, click HERE.

Clearstream provides a simple, easy-to-use church texting interface. It's perfect for beginners who want to send out group texts without hassle.
Clearstream Texting Software For Churches Notable Features:
Two-way conversations

Upgrade or downgrade at any time

Cancel anytime

Automated workflows

Effortless tool integration
Clearstream offers various plans. These include:
Free trial – $0

Church plant – $29 per month

Small Church – $49 per month

Medium Church – $99 per month

Medium Church + – $199 per month
These plans give you access to different features. For example, the Church Plant plan includes 1,250 credits per month, while the Medium Church+ plan gives you access to 12,000 per month. To review the features at each price point, click HERE.
Church Texting Summary
As you can see, there are many effective and different ways to use church texting solutions. Whether you want to reach people who have never been in the doors or just need a new way of getting in touch with members, church texting services can help connect more people and bring them closer together.
If you have additional questions or want to browse the church texting resources, be sure to use the links above. Implementing a church texting strategy could help alleviate common communication problems your team faces and help engage more people successfully.
Do you need additional help or resources to create compelling messaging? Visit more of our popular posts:
How To Clarify Church Mission Statements In 5 Easy Steps
How To Define Your Church Core Values In 5 Simple Steps
How To Prepare An Effective Message In 7 Steps
How To Prepare An Engaging Message (Sermon) Series In 4 Steps