It may seem obvious why prayer in small groups in important but just in case, below are a few central reasons for making sure that prayer is always a part of your group.  After all, a healthy small group should provide opportunity to Share Life, God, & Prayer together!
1.  Sharing Prayer In Small Groups Strengthens Community.
It is amazing the impact sharing a prayer request can have on drawing a group together.  The essence of a prayer reveals matters that are beyond surface conversation.  When someone shares matters that they are praying about they are sharing things about their life that they care the most about.  As a small group one of the goals is to experience community.  True community is able to take place among open and honest people.  As a group care for and gather together around the prayers that are shared.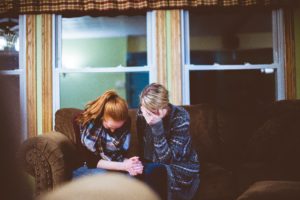 2.  Prayer Is An Intentional Invitation For God To Lead Your Group.
When we pray we are asking God to intervene, lead, & guide our lives.  Wouldn't we want the same leading for our Small Group?  When we pray we are recognizing that God knows better, has more power, and is able to do what we have not been able to.
"Do not be anxious about anything, but in every situation, by prayer and petition, with thanksgiving, present your requests to God.  And the peace of God, which transcends all understanding, will guard your hearts and your minds in Christ Jesus." – Philippians 4:6-7
Praying together as a small group will remind everyone that God is in control and that we don't have to be.
3.  Prayer Allows God To Work. 
Answered prayer encourages faith and inspires trusting in God in all circumstances.  When a small group prays together everyone has opportunity for their relationship with God to grow and be strengthened.
"Now to him who is able to do immeasurably more than all we ask or imagine, according to his power that is at work within us…" Ephesians 3:20 
Think about the amazing power that God says He will use on behalf of those who believe and pray according to His Will!
In order to incorporate prayer into your group you must do so purposefully. By doing so you are truly making way for God to do great things in and through your group.  Prayer in small groups is an important aspect of Experiencing Community & Growing Spiritually.  If you are not already, decide now to intentionally make prayer a part of your group life.
Share below how prayer in small groups has affected you or your group?
Is there more you want to learn about building a healthy small group ministry at your church?  If so, check out How To Start A Small Group Ministry At Your Church!