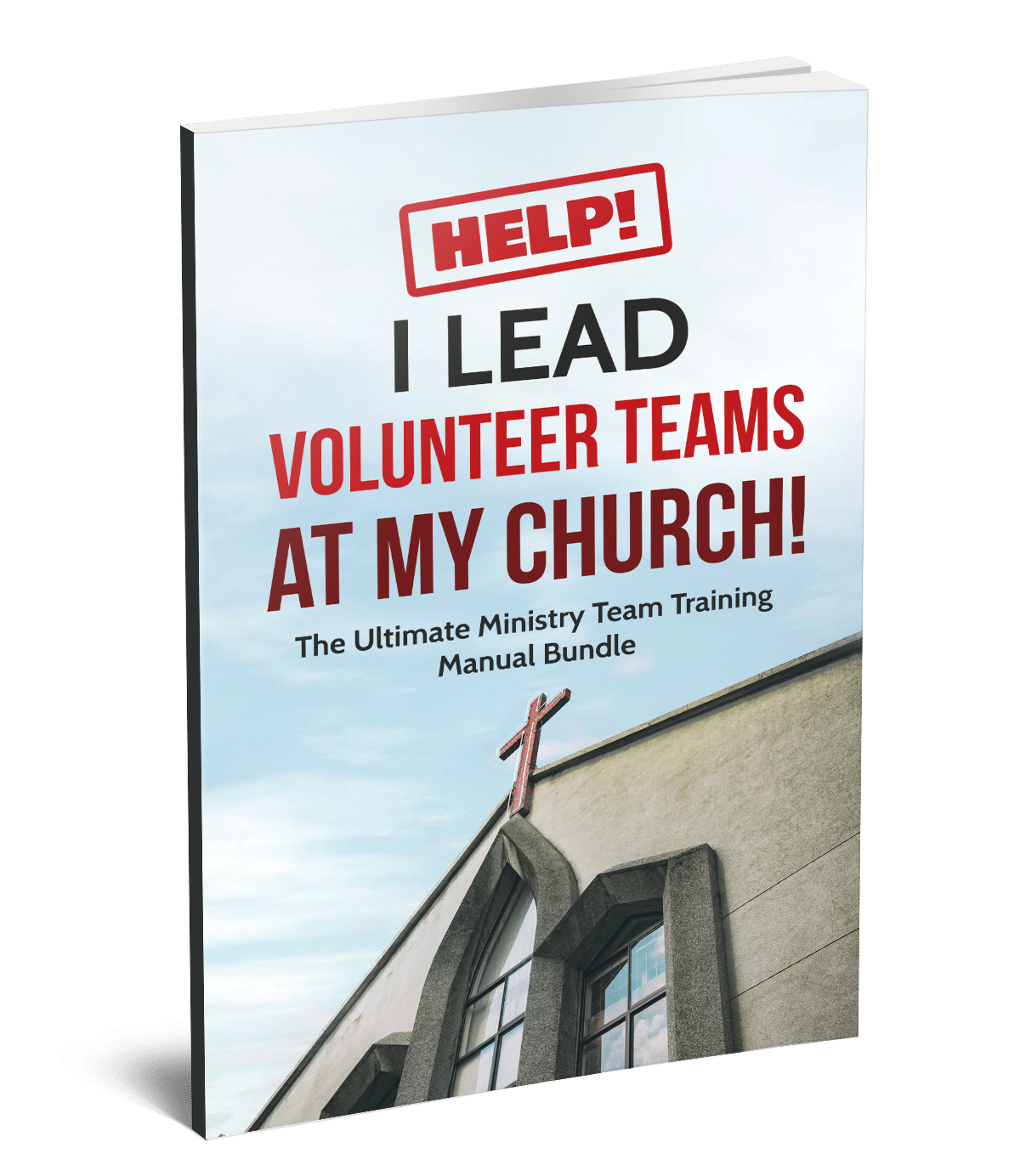 Church Volunteer Handbook
Finally! A Church Volunteer Handbook that includes training manuals for some of the most important ministries in your church. Having a church volunteer handbook for the ministry workers at your church will help you teach and equip your teams!
Help!  I Lead Volunteer Teams At My Church! includes in-depth, ministry specific training manuals for the the following ministries:
*Altar Worker Training Manual
*Greeter Team Training Manual
*Usher Team Training Manual
*Small Group Leader Training Manual

Purchase The Manual
Get the immediate, shareable PDF of the Usher Training Manual.

Share With Your Team
Print, email, or teach the training material with your team.

Serve With Excellence
With clear expectations and easy to understand instruction your team can serve confidently!
Training Church Ministry Teams
Each ministry team is a important part to your next weekend gathering or service. Therefore, providing clarity and adequate training for every team is even more important.  In order to do a great job, team members need clear instructions. This Church Volunteer Handbook is a bundle of training manuals.  Each handbook provides a way for you to teach your ministry teams and clarify expectations.  The manuals will help you lead your teams toward excellence and servanthood.  This ministry training manual bundle will provide you and your teams with the instruction you're looking for.
Church Volunteer Handbook
The Ultimate Training Manual Bundle Includes
Greeter Ministry – Greeters (hosts, welcome team, etc.) have the unique opportunity of making a first impression on behalf of the church by welcoming those who are entering.

 

Usher Team – If a regular attender or visitor had a less than positive experience finding their way into the sanctuary an usher can play a significant role in turning that person's experience around.

 

Prayer Team – Prayer team (altar worker) training is an aspect of church ministry that is sometimes overlooked.  However, prayer eases others burdens, is ministry, and brings deliverance.  If this is true, training and preparing your prayer team is very important!

 

Small Groups – Having an engaging small group ministry is important to people connecting outside of your weekend services.  It is vital to have leaders who are actively behind the mission of your church.

I care about church volunteer training because I too work with ministry volunteers and group leaders.  This church volunteer training manual bundle will provide you and your team(s) with the instruction you're looking for.

 

 

Hours of study and experience have been put into each manual.  I want to help make church volunteer training easier for you too!

 

 

 
How Have These Manuals Helped Others?
Here is what others are saying about the church training manuals:
It's been more than helpful to me, my team and the entire administration. Thank you so much. God bless you.
Barbara A.
I have just been asked by my pastor to lead the usher and parking teams and I have no idea how this works. This has been very helpful and has helped me in my decision of whether or not I am going to take on the role.
Jeff P.
This has been very informative, it has cleared up some of the ways to teach every usher how to handle every situation. I can't wait for our next usher meeting.
Minnie R.
Thank you so much for helping the body of Christ. I just wanted to say that this material has helped in such a special way. I like that you didn't make it out to be so difficult because that how it has seemed to me for so long. You have really lifted a heavy burden off of me. Thank you so very much.
Destinique B.
What's My Investment?
How much is having unclear expectations costing you? Could your teams reach more people if they were working together under one vision? How much more time could you devote to what only you can do if you were able to trust others to do what you need them to do? Are you wasting time and stress because you're not sure what to do or say? An uncertain, unorganized, uncommitted usher ministry and team may already be costing you a great deal.
People who attend your church deserve to be treated with respect and should feel appreciated and loved.  Every guest should feel welcomed and cared for.  The volunteers at your church should feel adequately trained for their area of ministry.
Unfortunately, this is not always easy.
A new volunteer at your church may not realize how important each aspect of ministry is at your church.  They may not know your vision for the team.  The expectations may not be clear to them.  However, ministry is too important to be unclear in these areas.
Training the ministry workers at your church  is not as hard as you might think, and, believe it or not, most volunteers want to receive instruction for the area of ministry they are volunteering in.
The importance of making a great first impression cannot be emphasized enough!
You know what a difference it can make to be serve others well, it can impact them so much so that it can determine whether or not they ever return.  Think of the times where you have been served at a restaurant or store.  You may remember the bad experiences more than the good ones.
With this training manual bundle you can train each ministry team to meet the various needs of people.  Ensuring that adequate training takes place is important!  Each of these connections can influence a person's entire worship experience.
A handbook provides three things for your church volunteer teams:
1.  Accountability – Clearly providing a written ministry handbook gives you something to return to when volunteers seem to be missing the point or not meeting expectations.
2.  Articulation – Having a manual allows you to easily share the vision and mission of your ministry with every volunteer at your church.
3.  Accomplishment – Written guidelines convey that what you're doing is important, while this may be subtle, providing a manual communicates that you care about your ministry.
Of course training your ministry leaders begins with your example of living and modeling what you expect from them.  Therefore, I want to help you focus on the relationships you have with your team rather than spending hours and hours creating manuals from scratch.
Remove the frustration of coming up with and finding training material for your ministry teams by taking advantage of getting this handbook today!  Help!  I Lead Volunteer Teams At My Church! is a bundle of four different, customized training manuals for your greeter, usher, prayer, and small group teams.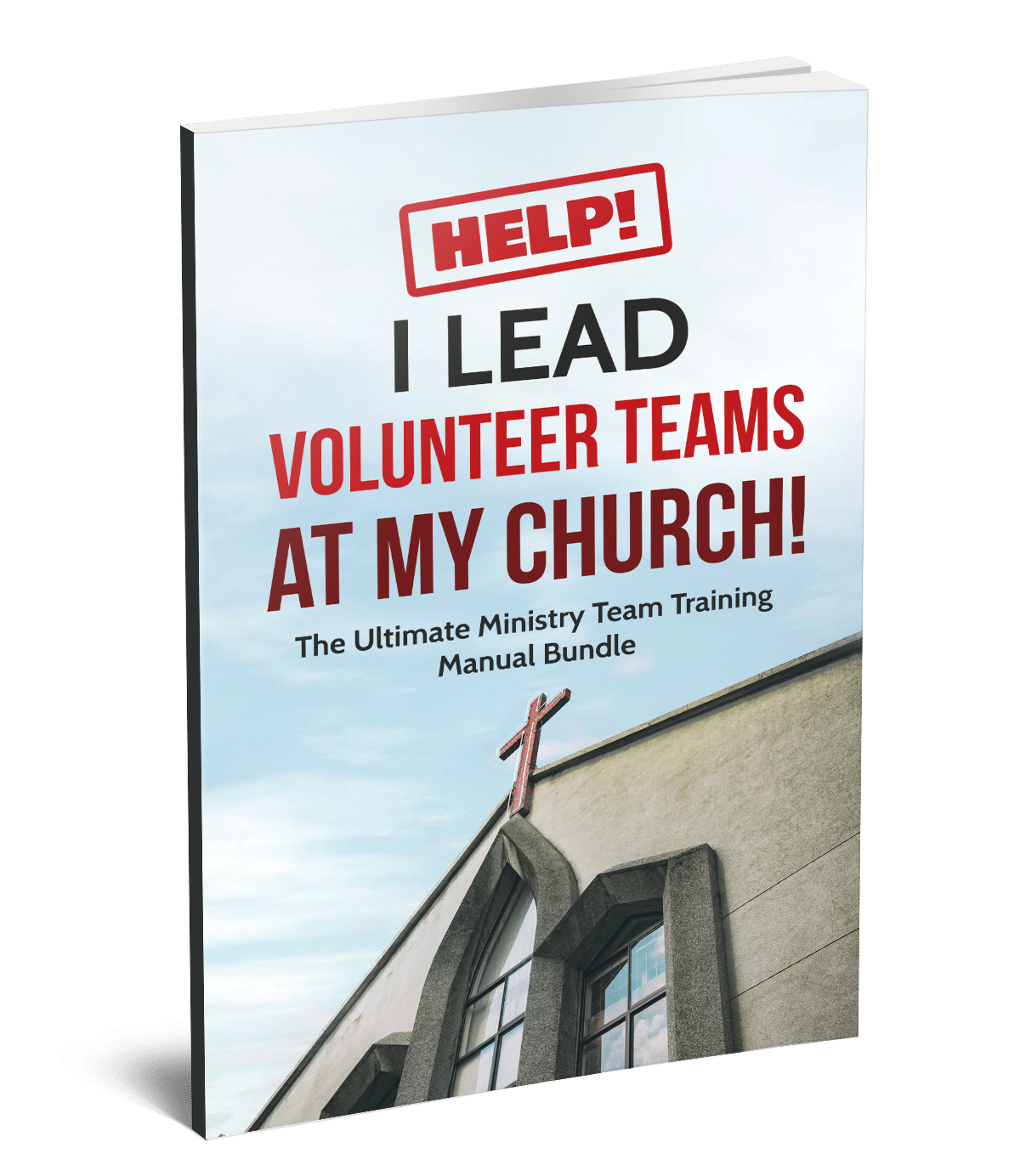 Church Volunteer Handbook
This resource bundle will provide you and your ministry teams with the training you're looking for.  And yes, you will have immediate access to it!
Having the PDF version of this church volunteer handbook means it's yours to keep! It will be much easier for you to share with your team whether you decide to print, email, or teach the material.
Frequently Asked Questions
Will you mail me a copy of the training manual bundle?
The Church Volunteer Training Manual bundle is delivered by email as a PDF file.  It is your to keep and use as often as needed.  Feel free to print and email the manual with your team.
What is your refund policy?
We offer refunds to all customers within 30 days of your purchase. If you are not satisfied with our product, then simply send an email to evan@dailychristianhelp.com and we will refund your purchase right away.
What about images and graphics? Will they relate to my church?
All manuals available from www.dailychristianhelp.com are created with your church in mind.  There are no logo's, graphics, or images that would conflict with your church.
Do you have other ministry training manuals available?
Yes, you can view all available church training manuals by clicking HERE.
How do I pay for the manual?
When you click the buy now button you will be directly sent to paypal.  You do not need a paypal account in order to complete a transaction.  Paypal is a fast, safe, and reputable online payment gateway.
Purchase The Manual
Remove the frustration of coming up with training material for your ministry teams.  Plus, included with the Church Volunteer Handbook is a free bonus resource to help you develop new leaders.
Click the button below to purchase the Church Ministry Volunteer Training Manual Bundle using the easy to use digital download and get immediate access to the training manual and free bonus!