A Church Greeter Team is a vital part of the worship service because they  are helping to prepare the peoples heart to grow closer to God by letting those coming into church know that we are happy to have them!
If people do not know they are welcomed they can easily feel like it doesn't matter if they are there… "No one cares anyways".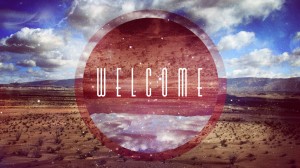 The church greeter team plays an important role in helping make a great first impression!
You know what a difference it makes to be served well, it can impact you so much so that it can determine whether or not you ever return.   Think of the times where you have been served at a restaurant or store.  You may remember the bad experiences more than the good ones.
I wrote a manual for church greeters because I too work with and oversee the greeter team at my church.  When I was asked to oversee the team there were areas that needed to be addressed and I wanted to have a way to teach the greeter team and also provide accountability, this manual has been very helpful.
I believe this guide will provide you and your greeter team with the instruction you're looking for.
And yes, you will have immediate access to it!
CLICK THE BUTTON BELOW TO PURCHASE THE CHURCH GREETER TRAINING MANUAL USING THE EASY TO USE DIGITAL DOWNLOAD.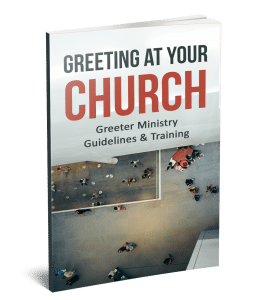 Today, in a lot of churches, you will more than likely encounter one or more of the following connection points.
Each ministry should be specifically designed to meet the various needs of people.
Any of these connections can influence a person's entire worship experience.
Greeters (A greeter gets the unique opportunity of making a first impression on behalf of the church by welcoming those who are entering.)
Information Center ( Ministries similar to this are in place to help answer specific questions about church happenings, classes, & events.)
Coffee Shop (The coffee shop is for people to enjoy and to help build conversation as people share a beverage or snack together.)
Security Team  (Obviously, this ministry provides a safe environment for people to gather by being aware of potential threats and diffusing arising problems. The Security Team hopes/prays for the best but is prepared for the worst.)
Usher Team (If a regular attender or visitor had a less than positive experience finding their way into the sanctuary an usher can play a significant role in turning that person's experience around.)
Altar Ministry (A prayer team who is ready to minister to the needs of people as they are needed or called upon.)
Not just anyone can serve on a greeter team. In the same way that not just anyone can play guitar on the worship team, work in children's ministry, or lead a small group. Your personal gifting's, passion, and abilities should determine where and how you use them.
If you think just anyone can be a church greeter check out these tweets that may prove you wrong: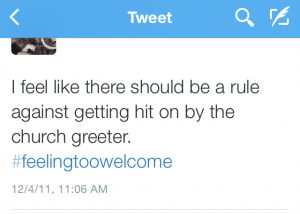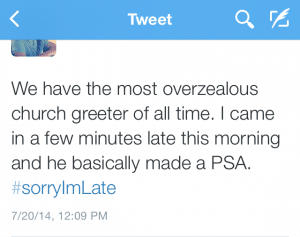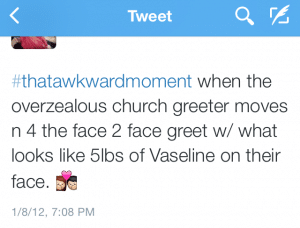 Because of experiences like those above there are some qualifications that should be considered when bringing on new church greeter team members.
*Does the new greeter have an understanding and commitment to fulfilling the vital role as a team member?
*Does the potential team member have a genuine care for people?
*Can you see traits of a servants heart?
*Is the person committed to vision of the church?
*Are they supportive of the leaders of the church?
 Responsibilities Of A Church Greeter Team Member
LEADERSHIP
 *Be spiritually prepared.
A good team member should be prepared mentally, physically, emotionally and spiritually (This IS a ministry!). Understand this is not a duty, but a privilege to connectwith God as part of your preparation.
*Take initiative!
If you aren't sure what to do, ask another greeter or team leader. The only wrong choice is not doing anything. Never assume "someone" else will take care of the need.
*Stay calm.
On occasion there will be moments of pressure; someone may be upset or something isn't working the way it's supposed to. In these moments never transfer the pressure to the person attending the weekend service. You are the leader and others view you as one. You absorb the pressure. Ask for help if you need it, but never make the issue their problem. You should help solve the problem.
*Follow the direction of your Leader.
Good leaders are good learners. It is important that you follow leadership and ultimately the Greeter Team Director. Remember you are there to be supportive and encouraging. We welcome your suggestions but do not be overly sensitive if your idea is not used.
CORE TASKS OF A CHURCH GREETER
Arrive 30 minutes before your scheduled service. (suggested time but do arrive early) 
This is a great time to familiarize yourself with the bulletin so that you are prepared to answer any questions people may have.
Be an excellent greeter!
*Know why you are serving!
"Finally, all of you be of one mind, having compassion for one another; love as brothers, be tenderhearted, be courteous; not returning evil for evil or reviling for reviling, but on the contrary blessing, knowing that you were called to this, that you may inherit a blessing." 1 Peter 3:8-9
*Know who you are serving!
Go the "extra mile"!
Be a great listener!
Learn people's name!
Thank those attending for being at church!
Never argue with your church guests!
Provide solutions to their problems!
Be ready to hand out bulletins.
Assure that bulletins are available and that you have some to hand out.
Be the initiator.
Smile, shake hands, make eye contact, and tell those attending that you are glad to see them at CFM.
Have an "eye" for first-time guests.
When you see someone that looks like they may have a question or needs help be the leader and point them in the right direction. Be attentive to the needs of our guests, especially those who are new.
COMMON SENSE
*Maintain proper appearance and personal hygiene.
*Mints can be a great thing!
*Show up on time.
*Arrive 30 minutes before your scheduled service.
*Read the bulletin – be informed and knowledgeable to the best of your ability.
*If you are on the schedule and can't make it, it is imperative that you call the Greeter Team Director and that you help find your replacement.
*Smile, talk to people, and learn their names!
*You don't have to know all the answers just where to find them!
*Many hands make light work being ready to jump in and help other team members when needed.
Concerning the responsibilities of a Church Greeter Team Director click HERE.
Responsibilities of A Church Greeter Team Director
The Greeter Team Director provides leadership, training, and coordination for the Greeter Team to ensure a smooth and efficient operation of all related duties.
These responsibilities include:
Provide leadership for team.
Identify and train one or more assistant(s) to who could replace you
Recruit new team members as needed.
Organize meetings as needed.
Provide current and rapid communication.
Provide encouragement for your team.
Help maintain standards for all greeter team functions.
Provide guidance during special circumstances as they arise.
Be observant of and create quick solution oriented solutions to challenges that arise during a service.
Train all new team members.
Organize and communicate the monthly schedule of team members serving each week.
Be a shepherd to those on your team and communicate with the appropriate church staff "need to know" information.
Be a model of excellence in your attitude and attire.
I know this training material will be helpful to your church greeter ministry.
Remove the frustration of coming up with and finding training material for your Greeter Team.  Plus, when you purchase the Greeter Team Training Manual it includes a resource for tips on how to develop new leaders.
CLICK THE BUTTON BELOW TO PURCHASE THE CHURCH GREETER TRAINING MANUAL USING THE EASY TO USE DIGITAL DOWNLOAD AND GET IMMEDIATE ACCESS TO THE RESOURCE AND BONUS!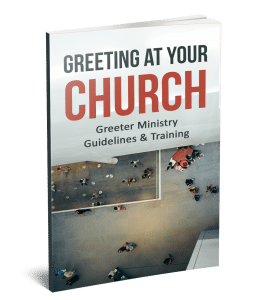 Which guideline is most helpful to you or your greeter team?  You can share your comments below.